The healthcare accreditation industry consists of a small array of organizations that offer verification services to healthcare organizations across the U.S., and some internationally. These accreditation companies essentially ensure that healthcare professionals and their facilities are continuously providing the highest possible level of care to their patients, even as standards evolve. Within this market, there are six notable companies that provide accreditation services — 1) The Joint Commission, 2) The National Committee for Quality Assurance, 3) The Commission on Accreditation of Rehabilitation Facilities, 4) The Utilization Review Accreditation Commission, 5) The Accreditation Association for Ambulatory Health Care, and 6) The Council on Accreditation. For each of these organizations, an in-depth analysis of how they differentiate themselves from one another, their pricing models and revenue streams, links to available financial documents, and an analysis of the effects of accreditation by each organization on patient care/consumer behavior has been detailed below. The majority of the information regarding each accreditation organization discussed was pulled from various pages across each organization's website, aside from a few instances in which outside sources were used to gauge consumer perspectives and impacts.
For the most part, pricing data for these accreditation firms was not publicly listed, as the total cost is variable and based on multiple factors including the number of physicians, locations, and more. In these instances, any data on pricing that was publicly accessible has been clearly stated, followed by a link to the contact page to request a quote. In other cases, pricing data was publicly available but was rather complex. In these moments, either a screenshot of the model or a link to the direct page where the entire pricing model is described by the accreditation firm was provided in lieu of copying the data down.
With respect to the financial statements, these accreditation firms are all tax-exempt non-profits, meaning that they are not required by law to publicly disclose any financial data aside from their IRS Form 990 and proof of tax exemption applicability. Because of this, only some of the accreditation firms depicted here chose to publish annual reports and financial statements. In situations where these documents were not publicly available, tax audits were used as an alternative, as these files contain copies of the annual financial statements from the accreditation organizations. The respective pages within the tax audit PDF file in which the financial statements can be viewed is also stated below for easier viewing. When tax audits were also unavailable, the IRS Form 990s were linked to because despite them being tax forms, they contained the total revenue earned by the company each year, as well as a very scrutinous breakdown of expenses.
In addition to this, information has been provided regarding how these organizations and others view, think about, and attempt to limit their liability with respect to the healthcare professionals and locations they have certified. This data is of particular interest because accreditation is not necessarily a requirement of any healthcare organization — unless they are looking to obtain certain federal benefits — leaving room for them to potentially attack accreditation companies in the case of a lawsuit or shortcoming. Accreditation companies such as the ones detailed here have gone to careful lengths to protect themselves from such liabilities, and this information is depicted below.
As a final component to this research, barriers that hinder healthcare organizations from obtaining accreditation from these types of companies have been identified and expressed below. This data was sourced primarily from research studies, expert news articles, and other reputable sources. These barriers are most commonly associated with financial struggles, particularly because accreditation requires annual fees, and depending on the size of the company, large sums of money upfront for on-site surveys. Barriers that are specific to the accreditation firms already discussed are depicted within their respective sections of this research report. More general hindrances are depicted in a separate section, as they can and do apply broadly to all accreditation firms and processes.
The Joint Commission (TJC)
Differentiation
Pricing
Revenue Streams
Financial Statements
Effects of Receiving Accreditation on Consumer Behavior & Experience
Barriers to Achieving Accreditation
National Committee for Quality Assurance (NCQA)
Differentiation
Pricing
Revenue Streams
Financial Statements
Effects of Receiving Accreditation on Consumer Behavior & Experience
Barriers to Achieving Accreditation
Commission on Accreditation of Rehabilitation Facilities (CARF)
Differentiation
Pricing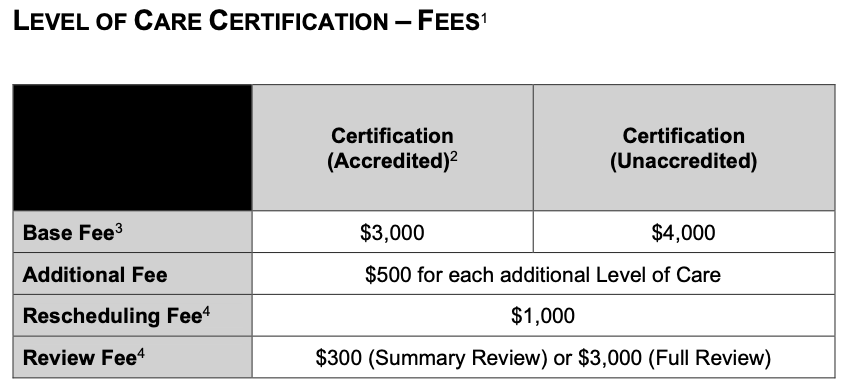 Revenue Streams
Financial Statements
Effects of Receiving Accreditation on Consumer Behavior & Experience
Utilization Review Accreditation Commission (URAC)
Differentiation
Pricing
Revenue Streams
Financial Statements
Effects of Receiving Accreditation on Consumer Behavior & Experience
Barriers to Achieving Accreditation
Accreditation Association for Ambulatory Health Care (AAAHC)
Differentiation
Pricing
Revenue Streams
Financial Statements
Effects of Receiving Accreditation on Consumer Behavior & Experience
Barriers to Achieving Accreditation
Council on Accreditation (COA)
Differentiation
Pricing
Revenue Streams
Financial Statements
Effects of Receiving Accreditation on Consumer Behavior & Experience
Barriers to Achieving Accreditation
Considering & Limiting Liability
Barriers to Obtaining Accreditation