GE Healthcare, Siemens, Performance Health and Brasseler have all updated their ecommerce platforms and marketing to provide B2B purchasers with more self-service options and B2C-like experiences.
GE Healthcare
B2B buyers are increasingly demanding more consumer-centric, "Amazon-like" buying experiences. According to a Salesforce poll, "82% of business buyers want the same experience when making purchases for their company as when they're buying for themselves." GE Healthcare responded to these shifting buyer expectations by updating their online ecommerce platform, the GE Healthcare Service Shop, in June 2019.
According to Tim Erickson, GE Healthcare's General Manager for Asset Recovery and Ecommerce, the goal of the revamp is "to bring a more business-to-consumer experience to business-to-business buying."
GE Healthcare added additional product inventory to the online site, and upgraded the site features to make them more consumer friendly, like a better advanced-search function and faster online reordering. They also added capabilities for buyers to "view daily deals, check parts availability instantly, and track delivery status."
The revamp has seen positive results, with GE stating that "the Service Shop ships out roughly 6,000 products daily with a 96% on-time delivery rate." Some deliveries happen as quickly as eight hours after the order is placed.
Additional information about the ecommerce revamp can be found here.
Siemens
 Siemens Healthineers also utilized B2C tactics in their B2B marketing program in order to adjust to changing B2B consumer desires, brought about in part by an increase in Millennial B2B purchasers.
In order to respond to these changing purchaser demands, Siemens Healthineers began utilizing digital channels previously primarily utilized by B2C brands, such as Facebook, as opposed to exclusively more traditional B2B channels such as phone or email.
On The Siemens Healthineers Facebook page, the company makes full use of video marketing with "interviews, product demos, think pieces, and more, all designed to communicate the brand message and promote its products."
Their Facebook page also allows for prospective buyers to contact them through Facebook Messenger, which is unusual in the B2B space, especially for large companies.
While specific results of the Siemens Facebook and social media marketing strategies were not disclosed, it can be seen that the popularity of the Siemens Facebook page is growing steadily, with an increase of almost 4,000 likes in the past six months.
Further information on the social media advertising strategy of Siemens in Poland can be found here.  
Performance Health
Performance Health, which is "the largest global manufacturer and distributor of products to the rehabilitation and sports medicine markets", needed to update their ecommerce and sales platform in order to better meet their B2B customer expectations, including better self-service options for B2B purchasers.
As a result of the shift, Performance Health saw "a significant increase in customer loyalty [and] fewer customer service complaints," as well as 53% year-over-year increase in orders, "an overall 15 percent growth in online revenue, and a 12 percent growth in Average Order Value."
Additional information on the Performance Health ecommerce revamp can be found here.
Brasseler
Brasseler is a leading dental supply company in the US. In order to allow dental practitioners more self-service options in ordering and a simplified approach, Brasseler incorporated both a customizable dental kit designer and subscription-based ordering directly on their website, without having to ever contact a sales rep.
For their customizable dental kit, Brasseler utilized the ThreeKit product visualizer "so practitioners could self-service and get exactly what they need."
With their SmartSupply ordering program, Brasseler "allows dentists to select the dental instruments they need most and have them delivered automatically on a schedule of their choosing and there's no long term commitment to the program."
They also put more information on their website so that customers would not need to seek out reps, such as advanced search features, videos, supporting documents and detailed product descriptions.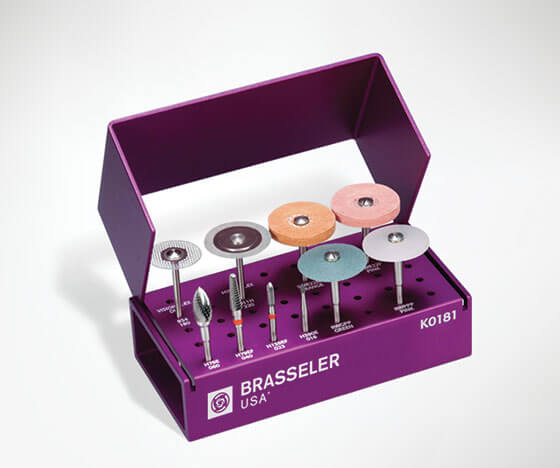 While no specific results were provided, the company appears to be experiencing positive results with plans to move towards more self-service purchasing options in the future. According to Ryan Dew, Senior Director of Business Operations for Brasseler, "we see that general trend in the industry, people want specific products just for them that meet their exact needs."