Provided below are more than 20 statistics related to Medicare Advantage (parts C and D) and Medigap. In addition to including all the statistics provided in the initial hour of research, and expanding on them where possible, more than 15 new data points/statistics were found and included. To organize the report, the following categories were used: Spending, Enrollment, Providers/Plans/Benefits, and Relevant Demographics.
What is Medicare?
Medicare is broken into four parts. Part A provides traditional inpatient/hospital coverage; Part B provides traditional outpatient/medical coverage; Part C is Medicare Advantage (MA) plans; and Part D is a prescription drug coverage supplement.
 Medigap is a supplement to Medicare that is sold by private insurers. It helps cover expenses not covered by Medicare parts A and B for people enrolled in those plans. This coverage does not work with Medicare Advantage plans.
Spending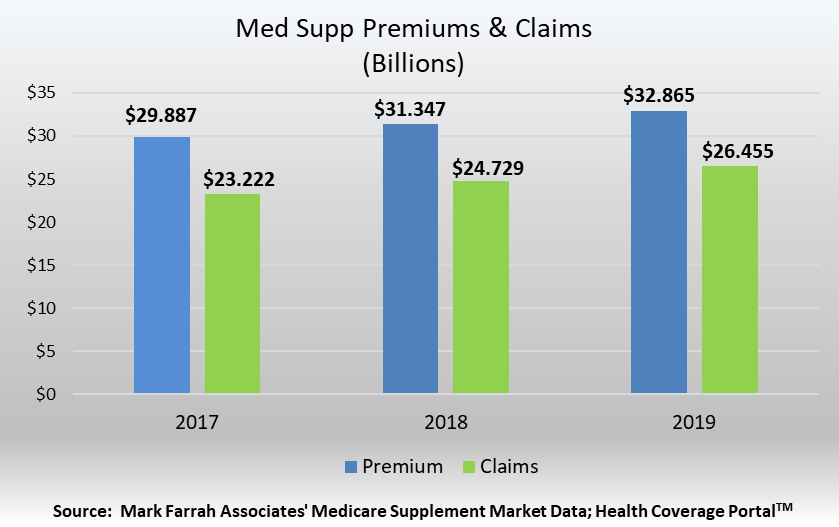 Enrollment
Enrollment in Medigap has increased from 9.7 million enrollees in 2010 to 14.1 million enrollees in 2018. The Midwestern states have the highest percentage of medicare supplement enrollees.
In terms of percentage, 30.8% of those eligible for Medigap enrolled in 2013, while this increased to 35.1% in 2017.
In 2021, it is expected that fewer people will enroll in plans with 4 or more stars as compared to 2020.
Providers/Plans/Benefits
Beginning in 2019, MA plans were able to offer "non-skilled in-home care services as a supplemental benefit." In 2020, more supplemental benefits were allowed, including adult day care services, home-based palliative care, caregiver support, and therapeutic massage. Other benefits that can be offered include "rides to appointments, aides to help with daily activities, meal delivery and other services to help seniors lead healthier, more independent lives." This increased flexibility provides opportunities for providers to offer unique services that will benefit seniors while also helping their plan stand out. The president of the Better Medicare Alliance, Allyson Y. Schwartz, stated that "The growth in supplemental benefits across Medicare Advantage plans as compared to 2019 tells a remarkable story of how plans are finding new ways to care for the whole person and address social determinants of health."
There are several MA supplemental benefits that were offered by less than 50% of plans in 2020, providing an opportunity for outreach to potential enrollees who may value those benefits.
Deloitte conducted a survey of MA plan executives and digital health companies and "found that through April 2020 more MA members used telehealth than did so in all of 2019." This change was possible due to the COVID pandemic when, on March 17, 2020, the Centers for Medicare and Medicaid Services (CMS) expanded Medicare telehealth to allow patients to receive telehealth services from any location. This was not previously allowed. Sarah Thomas, managing director of Deloitte's Center for Health Solutions said, "The direction and the emphasis on digital—there is no turning back. Health plans that are sort of waiting on the sidelines and hoping to be a fad follower will get left behind."
There are 996 prescription drug plans (PDPs) offered in the U.S. for 2021, which is a 5% increase from the number of plans offered in 2020, and a 33% increase from 2017. The following chart shows the change in the number of standalone PDPs since 2006.
Relevant Demographics
"In 2020, around 1 in 6 Americans are age 65 and over, and this is projected to rise to 1 in 5 as soon as 2030." In 2020, there were approximately 56 million Americans aged 65 and over, and this is expected to increase to 73 million by 2030, and to be close to 100 million by 2060.
By 2035, the U.S. Census Bureau estimates that those aged 65 and older will outnumber those under 18 in the U.S.
"In 2018, 51% of persons age 65 and older lived in 9 states: California (5.7 million); Florida (4.4 million); Texas (3.6 million); New York (3.2 million); Pennsylvania (2.3 million); Ohio (2 million); Illinois (2 million); Michigan (1.7 million); and North Carolina (1.7 million). Georgia, New Jersey, Virginia, Arizona, Washington, Massachusetts, Tennessee, Indiana, and Missouri each had more than 1 million people age 65 and older in 2018." This could provide a road map of states to focus on first if launching or expanding business in the MA space.